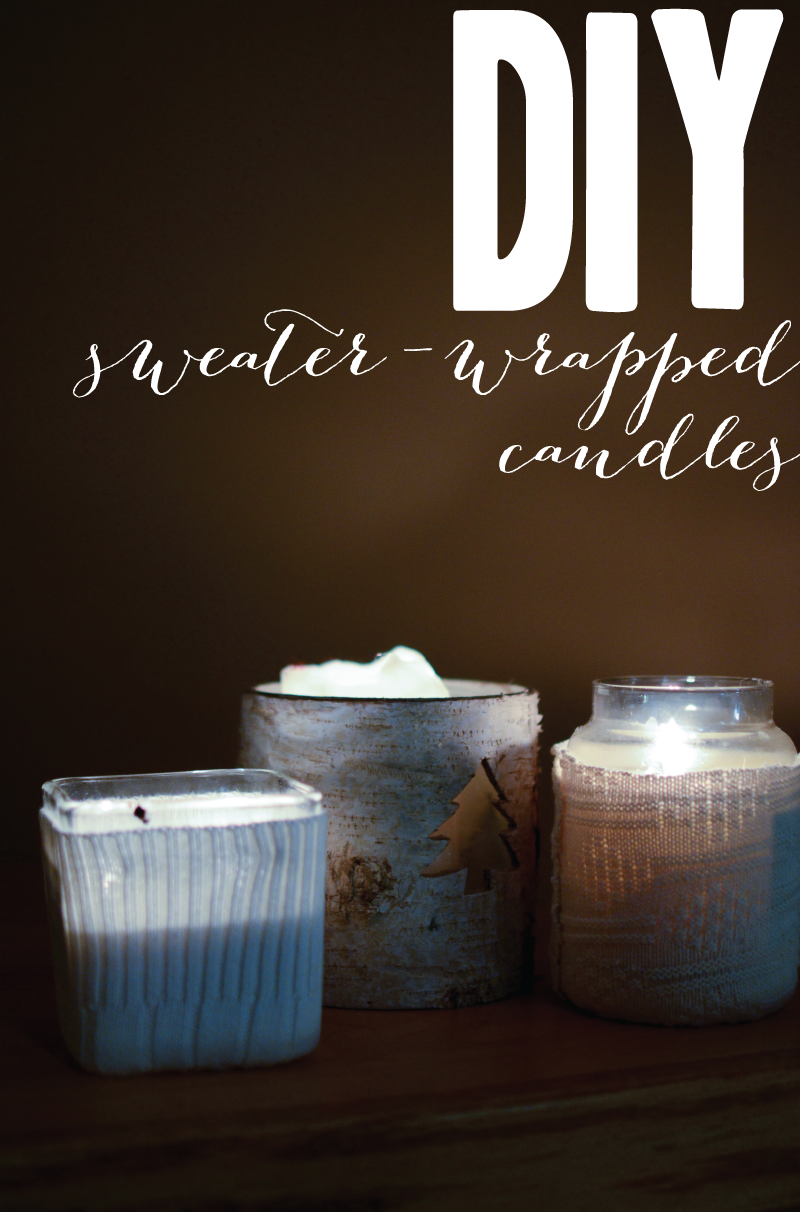 i'm bringing you a super easy diy today that can bring some cozy decor to your house all winter long! my job at gt involves a lot of stage design and decor of the church, and this year, our christmas decor is a lot of really gorgeous rustic repurposed barn wood and white cable knits. we wrapped ornaments and packages in sweaters, and on sunday, i wrapped a ton of glassware in sweaters and placed candles inside of them to line the front of our stage. it's going to be gorgeous, and i'm pretty excited about it!
wrapping candles in sweaters is
so
easy that i just had to share it with you. grab a few sweaters (i love white and creams, but you could do any color!) from your local goodwill or thrift shop and pick up a few candles or find a few that you have around the house. you'll also need a glue gun and a pair of scissors.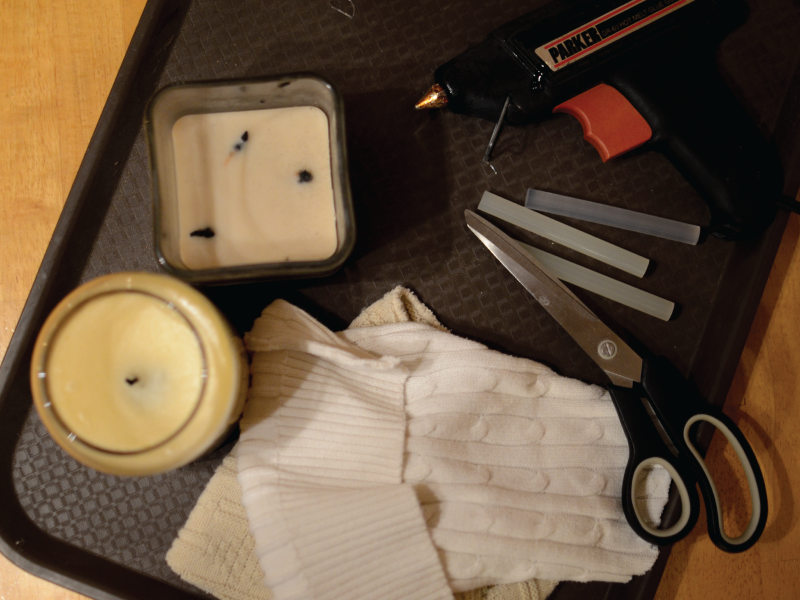 if your candle is big enough or your sleeves tight enough, you can simply pull the sleeve right over the candle! if it's tight enough that it won't slip down, you probably won't even need to glue the sweater onto the candle. but if you can't just pull it over, or it does slide down, tack it on in a few spots with some hot glue. you don't need a lot, and don't worry about ruining the glass...hot glue comes right off of glass.
if your sweater sleeve and the candle aren't a perfect fit, then cut the sweater up the seam. wrap the sweater around the candle, tacking around the top and bottom with hot glue as you go. try your best to keep the lines of the knit pattern vertical and not slanted. then, trim off the bottom of the sweater, just a bit longer than the bottom edge of the candle. (i'd also suggest leaving a little glass exposed at the top of the candle, but that's totally up to you!)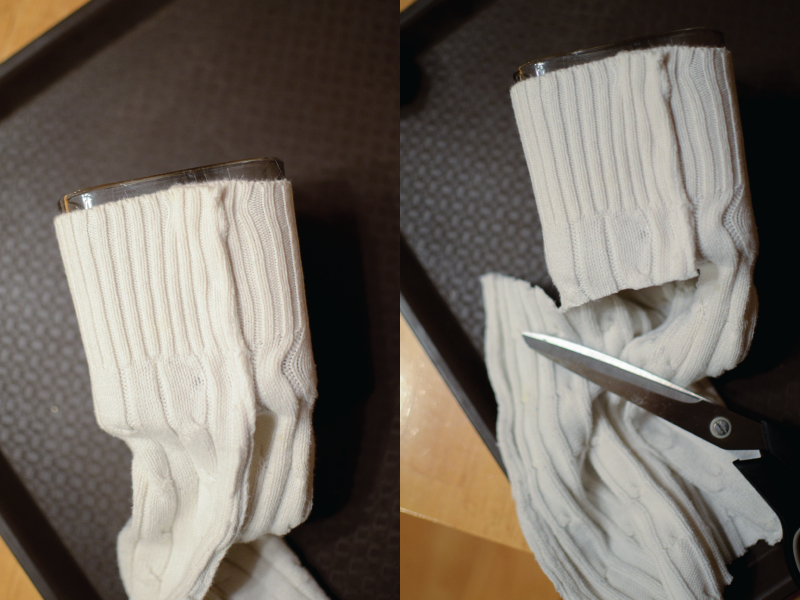 once you've trimmed, flip your candle upside down (pictured below). simply tack the edge of the sweater around the bottom of the candle. this will give your sweater candle a nice finish when it's sitting on it's base (rather than a messy cut seam), and it will also allow the candle to sit flat, rather than with a lot of extra sweater bunched up underneath it.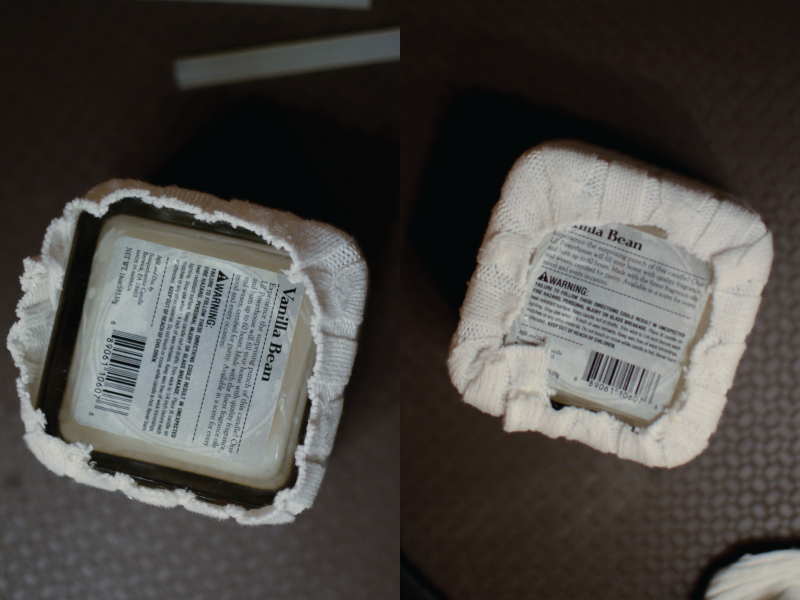 literally, that. is. it. super simple...told ya! you could also tie some twine or burlap ribbon around the candle and sweater to give a little bit of adornment, or maybe even glue some mini pine cones onto the sweater! get creative! these candles will last you far beyond the christmas season, and will add a cozy element to your home decor. and if you have a few candles laying around that need some updating, then you can do the whole update for about $5!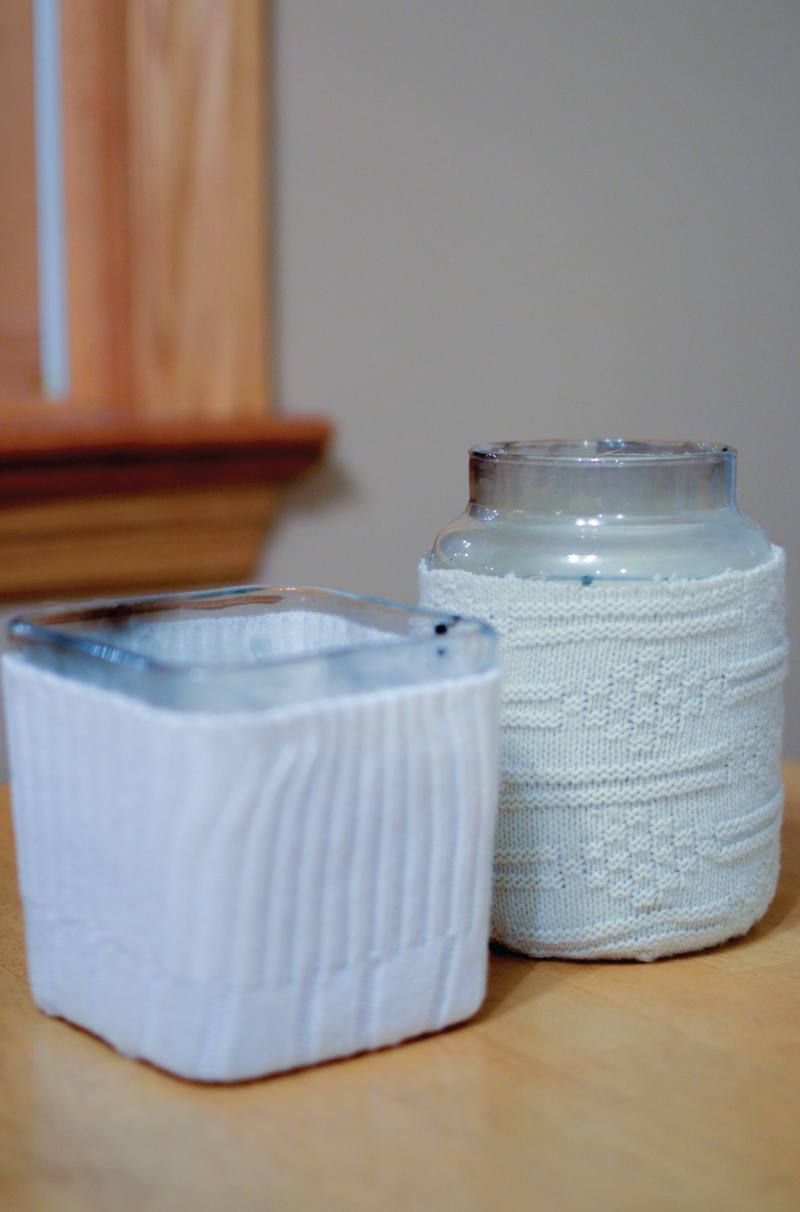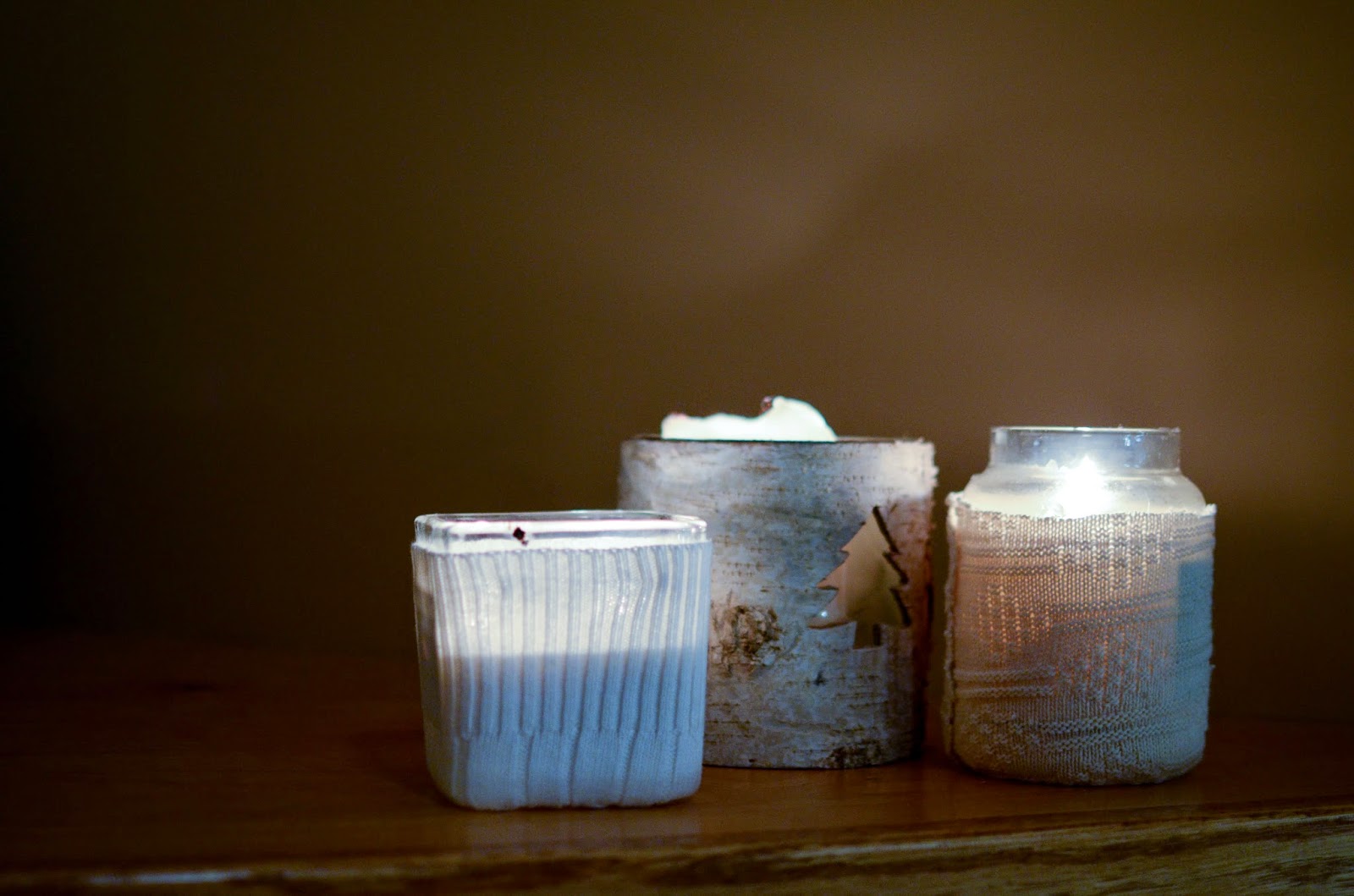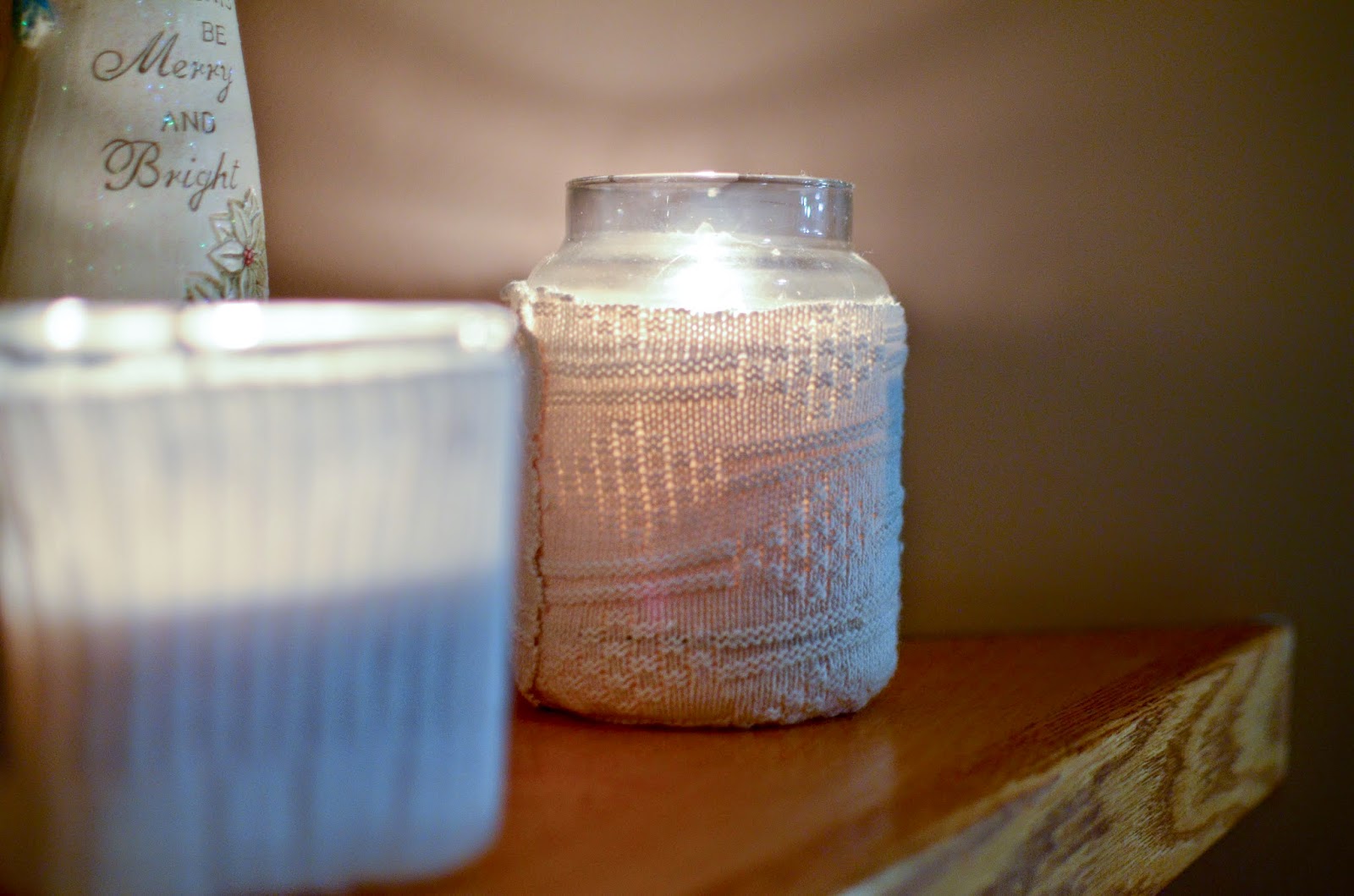 if you like this diy, then i encourage you to check out how to
make your own soy candles
, and also this easy diy to make
yarn-wrapped candles
!
what are some of your favorite winter decor items?