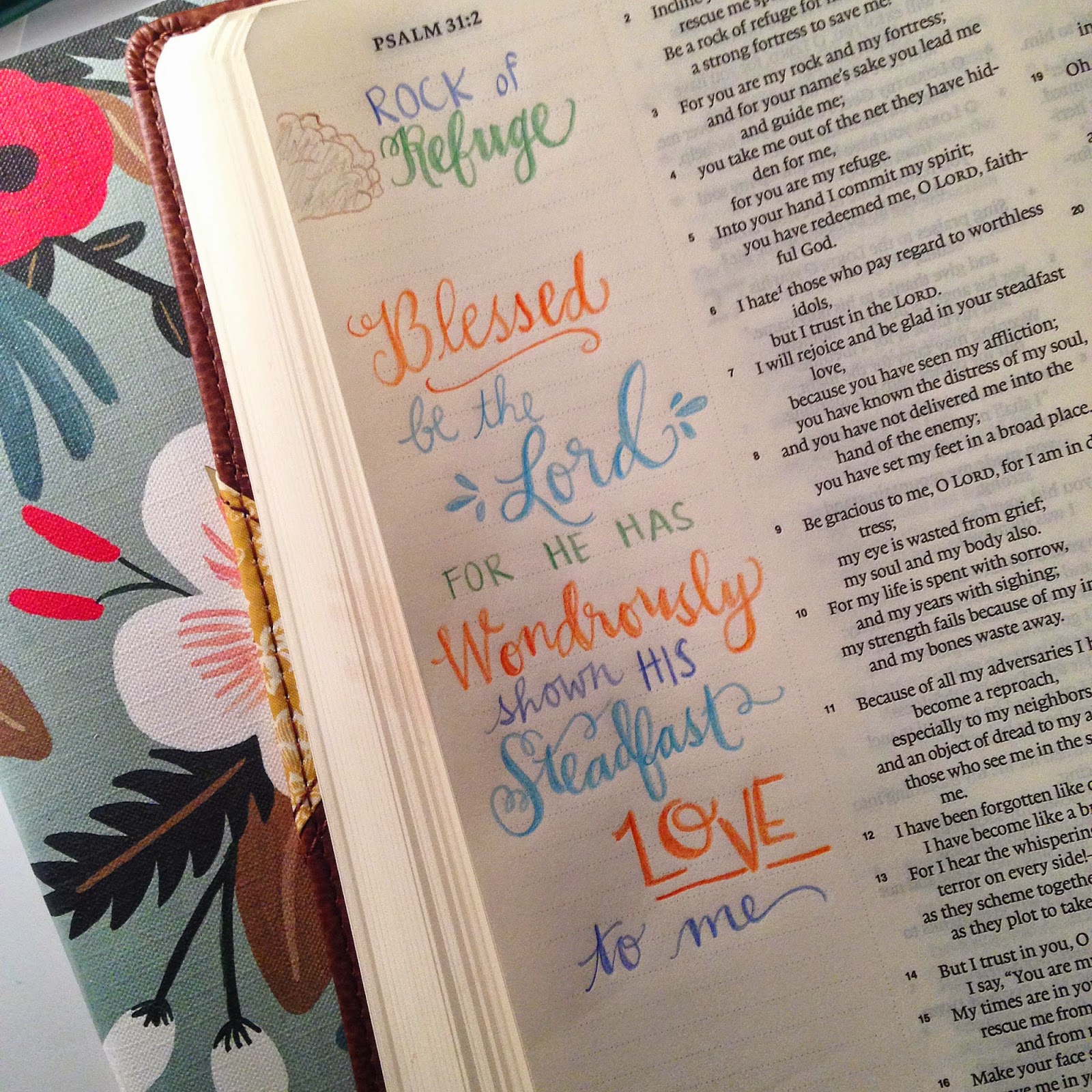 i'm starting my monday off with a
grateful heart
. today, i'm so grateful for the bible.
i'm also going to be completely honest with you....i'm really really bad with spending time daily in the word. i've been getting better, but it's a struggle for me! i'm so grateful that god has given us his word to turn to in all seasons, and the more i dig into it, the more i want to read. a few months ago i did a post with
tips on how to get into the habit of opening your bible
, and i've been really trying to implement those tips in my own life!
one of the things i did for myself was purchase a journaling bible. if you search #journalingbible on instagram, you'll find a myriad of inspiring and amazing things that people do with these bibles! they have extra wide margins for writing notes, but there are so many ideas, from scrapbooking to illustrating, that people get so much more creative than just writing notes! i personally have been loving hand-lettering different verses that jump out to me in the margins. plus, this bible is just pretty! i have the antique floral version, and i felt like i finally had a "grown up" bible when i took it out of the packaging.
using this bible has not only inspired me to get into god's word more regularly, but to also be creative about reading and interpreting scripture! i already love hanging scripture on my walls so that i'm constantly seeing it, and this new practice has just given me even more inspiration.
and so that you can check out the journaling bible for yourself, i've teamed up with lauren from
34 magnolia street
as well as a few other ladies to give one away! specifically, we are giving away an esv journaling bible, as well as a $30 amazon gift card! the giveaway runs from today through 12/14, so these will ship just in time for christmas. we are specifically giving away the bible pictured below - it is leather with a dainty leaf print on it. for a better picture and to see the inside, you can check out the specific bible
here
.
be sure to check out the lovely ladies below and visit their blogs when you enter to win below! :) good luck!
this giveaway is open to US residents only. entries will be verified upon closure of contest. giveaway runs 12/7/14 - 12/14/14. good luck!