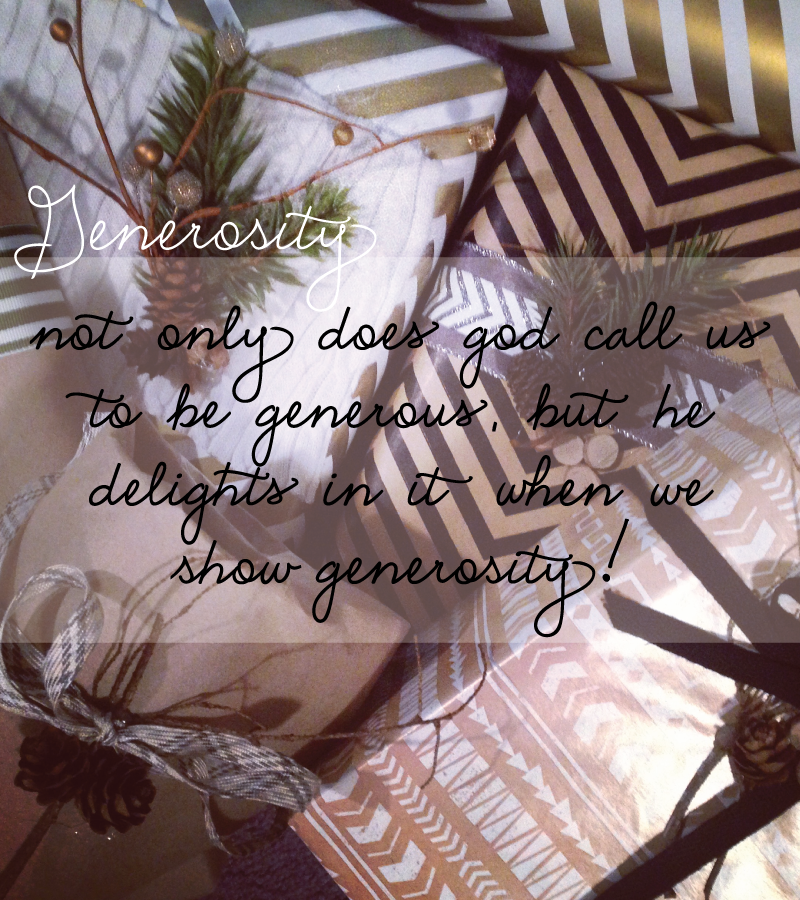 today i'm joining in with madison over at wetherills say i do and rachel of oh, simple thoughts for their community brew link-up! community brew is a monthly link-up that is designed for bloggers to be "open, honest, and vulnerable, and to build community with others." december's prompt is generosity, so join in and tell us a little bit about what season of life you're in!
it's hard to believe that christmas is a week away. i'm sitting in my room, looking at a pile of wrapped gifts and receipts stacked on my desk. i
can't wait
to give those gifts out next week. i love picking out something great for someone i love and i'm looking forward to handing out these carefully-picked and wrapped gifts on christmas day.
generosity is a buzz-word this time of year. in fact, it was our theme for the month as the character-education assemblies that i help to organize through our church. we spent a few days teaching kids that generosity is "making someone's day by giving something away", and i can't think of a better way to put it! everywhere you look right now, you'll see examples of people being generous. generosity in giving gifts to friends and family; supporting charities; sponsoring families in need....opportunities to be generous are all around us every day.
i love practicing generosity year round, and i'm learning to be more generous with my money so that i can be a blessing to others in that way. you see, being generous with my time has always been easy for me. but money, well, that's been harder to release control over. i'm in my mid-twenties, with two degrees under my belt, which also means a decent amount of student debt. so i've always made it a point to be as frugal as possible.
but i've learned that not only does god call us to be generous (and that being faithful in our giving to him through our
tithes
will return more blessings than we can imagine), but he delights in it when we show generosity!
no matter what your financial situation, there are ways to be generous with a little or with a lot. i'm a fan of making small commitments when i can. for example, the mocha club is an awesome organization to support...they back a myriad of different projects in africa and you can support them for just the price of two starbucks drinks a month. i also love supporting businesses that give back or are small. as a
shop
owner, i know i'm blessed by every order, and i consider each order an act of generosity!
of course, generosity isn't only about money. there are so many other ways to be generous with your time and resources. offer to babysit for that single mom at church; spend some time wrapping your grandmother's gifts for her; if you can make something, do it and send it to someone as a snail mail surprise! be creative with your generosity and i bet you that you'll find it really fun.
so, how are you showing generosity this christmas season?