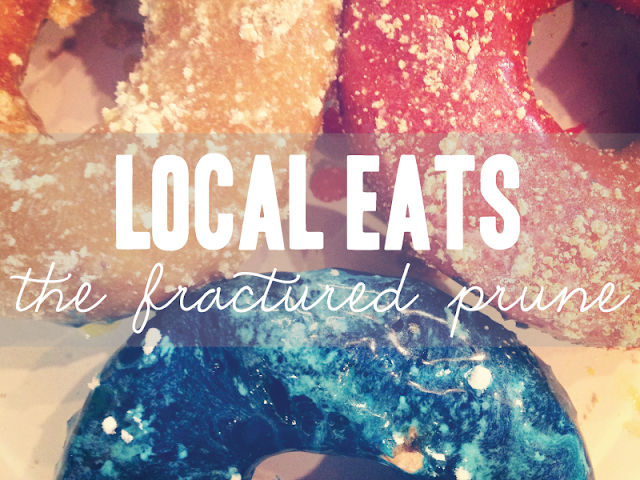 ok, so this isn't
exactly
"local" for me...the closest one is about 30 min away in lancaster, pa. but (happy dance!) they do have locations in a
number of places
across the country, so maybe, if you're lucky, there's one "local" for you!
my dad first discovered
the fractured prune
while on vacation in ocean city, md. there was a location just down the block from our condo, and he'd walk down and bring back fresh donuts for us in the morning. as a little kid, i'll be honest...i wasn't doing cartwheels over this place. these things weren't my usual chocolate-frosted treat from the grocery store, and i was a creature of habit. as an adult, however, the tables have turned.
the fractured prune serves up hot, hand-dipped donuts to order. (they also serve some pretty yummy bagel sandwiches as well!) when i say "to order", i mean that they literally
make
the donut from scratch as you order. so when it comes to you, its hot and a little crispy on the edges and friends, there's no better way to eat a donut.
trust me
.
it's probably fair to say that everything on their "specialty donuts" menu is delicious, and you also always have the option of dreaming up your own creation as well! you'll find everything from reese's peanut butter cup donuts to lemonade to salted caramel, and the list goes on! aj and i love going and splitting a few donuts so that we get to try different flavors, however, we both definitely have our favorites!
my recommendation
// the strawberry shortcake...a hot donut dipped in strawberry glaze, crushed graham crackers, and powdered sugar.
holy yum, batman.