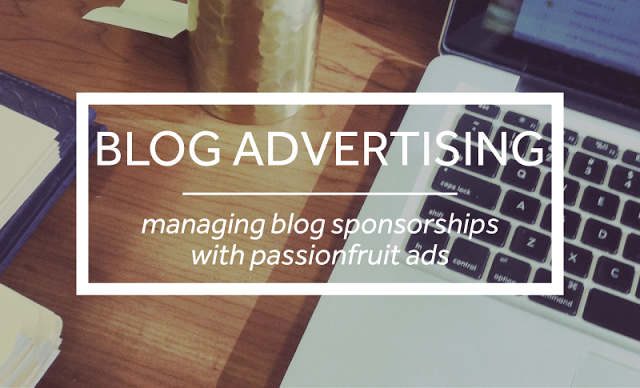 if you're a seasoned blogger who offers ad spaces on their blog, chances are you've either heard of, or are already using,
passionfruit ads
. but if you're just dipping your toes into the waters of blog sponsorships, then passionfruit is about to become your best friend.
when i first started offering ad spaces on my blog, i just threw my email address out there and bloggers would email me, we'd send each other jpg buttons and a link, and i'd have a million little photo widgets on my sidebar. there was no real method to the madness...every once in a while, i'd look around to see who still had my button up. if someone didn't, then i probably took theirs off of my blog, because, well, we agreed to swap and they weren't holding up their end of the bargain anymore.
then, a blogger wrote a post about why she switched to passionfruit. at first, i just thought "i don't have time to learn
another
blogging thing and this whole swapping thing isn't really a big deal to me anyway," so it took a while for me to check it out. but once i did, i was totally sold.
passionfruit takes the work out of running sponsorships on your blog.
its as simple as setting up what size banner you want people to submit and then dropping some code into your advertising page and a different code where you want the banner to show up. passionfruit automatically posts and takes down ads as they go live and expire; you can set it to rotate ads with each page reload; you can create free sponsorships or price them to whatever you want; and you can offer promo codes to your readers!
at one time, passionfruit took a fee for every ad you sold, but now you pay a monthly or yearly membership and the only fees you pay per ad are paypal's.
if you're thinking "i really don't want to
pay
to sell ads on my blog!" i get it. once passionfruit went to a paid subscription last fall, i debated long and hard about whether to keep using their service. (because i was using them before they went to a paid subscription, i was able to lock-into a rate of $50/year, but the monthly and yearly plans that are currently offered on their website start as low as $3/month!) finally, i decided to invest for a year and if it didn't pay itself off, then i'd find something else to use.
but friends, it's paid off. it's paid off and then also allowed me to invest in advertising on blogs that are bigger than me, sponsor giveaways, and even take a few trips to visit that boy i love in boston.
passionfruit has made running ad spaces on my blog a total breeze and has allowed me to better focus on this space, rather than worrying about what ads i should have on my sidebar and for how long.
a few more things i love about passionfruit:
// it's not just for sidebar ads...you can sell guest posts, blog services, even memberships
// there's a marketplace that lists blogs that sell ads with passionfruit...great for discovering new blogs!
// the user interface is easy to navigate, and has a great look
// you can see stats on every ad, like views and clicks
// you get an email when someone purchases an ad and when an ad you've purchased is approved
// jason, the founder, works hard, responds quickly, and is always ready to help when you need him!
did you know?
if you're running a promo on ad spaces, you can tweet a link to your ad shop and the promo code at @passionfruitluv and they'll retweet it to you! be sure to follow this account to get tips on who is having sales.
*if you're looking to
advertise on heavens to betsy
, book any ad by the end of july and get 50% off with the code "fiveyears"!