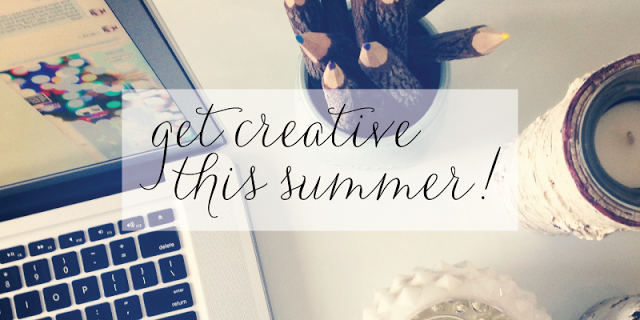 summer is totally a season that gets my creative juices flowing. i love tackling larger projects during these warmer days, especially since it means you can use outdoor space to complete them. aj got me a palm sander for christmas and i have a few pieces of furniture that i'm hoping to refinish at some point before summer's end!
but i also love simply getting inspired during this season...from creativity in the kitchen, to creativity with fashion, hair, and makeup, to creativity with home decor, there's just so much you can do during these wonderful summer months!
i've partnered up with some pretty lovely bloggers to bring you an awesome giveaway that will hopefully spark your creative side this summer!

one lucky winner will receive a gift pack filled with a
live creatively mug
from the lovely lindsay letters, a
print of their choice
from oh lovely day designs, a
notebook set
from rifle paper co, oh, and a little target giftcard. so basically, this giveaway rocks and you should enter it.
but before you enter, i'd like to introduce you to the wonderful women making it all possible! these girls all run some awesome blogs and shops, and you should check them all out!