let me start off by saying that this post is in no way sponsored by nike. i'm sure they have no clue who i am and no one asked for my opinion, but i'm giving it anyway, so do with it what you will.
if you haven't noticed it by now, there's a huge market taking off for fitness bracelets. fitbit, up, nike fuelband...these are just a few of the products dominating stores. to be completely honest with you, i had little interest in purchasing one of these bracelets. aj got an up bracelet last summer and while it was lacking in some areas, he
did
like the fact that it motivated and reminded him to move more throughout the day, and he did see a difference when he wore it. unfortunately, he misplaced it in the move from boston to pa back in may, so he went on the research hunt for a replacement.
after reading a bunch of reviews and stumbling upon a pretty nice sale at dick's sporting goods, he settled on the
nike+ fuel band se
. i'm not really the "he has it so i need it" type, but let's just say that he bought his on a saturday night and by tuesday i had my own.
the fuelband is an activity tracker that measures your movement and reports back with how many steps you've taken, how many calories you've burned, and how many fuel points that equates to. nike has created their own system that takes data from your movement and converts it to a universal language of points. think about it this way: a person who is taller and larger than me will burn nearly twice as many calories as me doing the same walk. with nike fuel points, weight isn't taken into account, so while that person may earn a few more points than i will because of the length of their stride, etc., the playing field will be fairly even. so we will both have to do a similar amount of work to achieve the same goal.
the band syncs to the nike+ website and the nike+ fuelband app, which allows you to set a daily goal, view and compete with friends, achieve trophies, and track your progress over time. the bracelet syncs via bluetooth, so all you need to do is open the app within range of your band to see your progress for the day.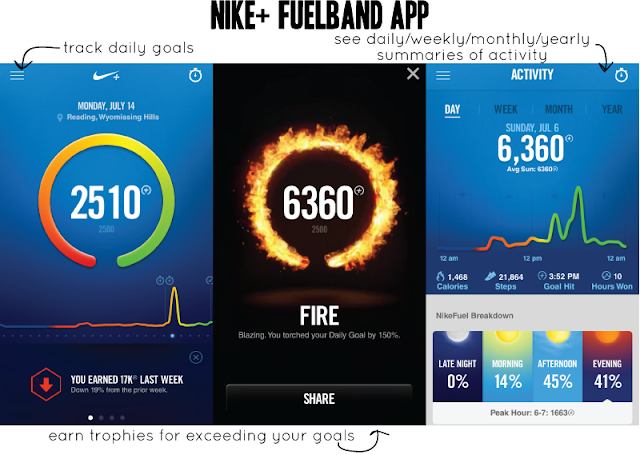 as you can see, the app has great graphics and a number of features that are both fun and informative. there are a ton of "trophies" for you to earn as you do things like exceed your goal by 150%, get moving for at least 5 minutes during 8 different hours in a day, and moving a lot during certain times of the day.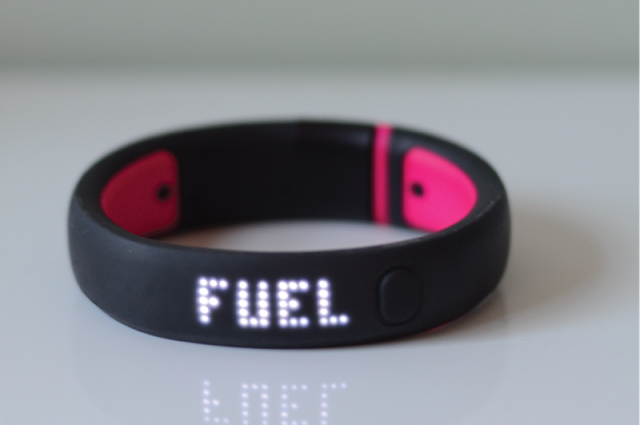 another thing i love about the fuelband is that it has a screen built right into it. there are little led lights that shine right through the black rubberized surface of the band that can tell you how many points you have so far, how many calories you've burned, steps you've taken, etc. it even tells you the time! you can also stop and start "sessions" (like a walk or run) right from your band so you can track and compare workouts later through the app. each hour, my band lights up and says "go betsy!" to remind me to get up and move.
my biggest concern with purchasing the fuelband, or any fitness bracelet, for that matter, was that i wouldn't wear it. i was worried that it would stand out too much and that i wouldn't be able to wear it with my watch. i've surprised myself by wearing every single day so far since i've had it...the pure competition and need to reach my goal is motivation enough, but beyond that, i've discovered that it doesn't look too bad stacked with a few other bracelets after all. i even tried my hand at a "wrist collage" that included my nike fuelband, and i didn't mind the look of it at all!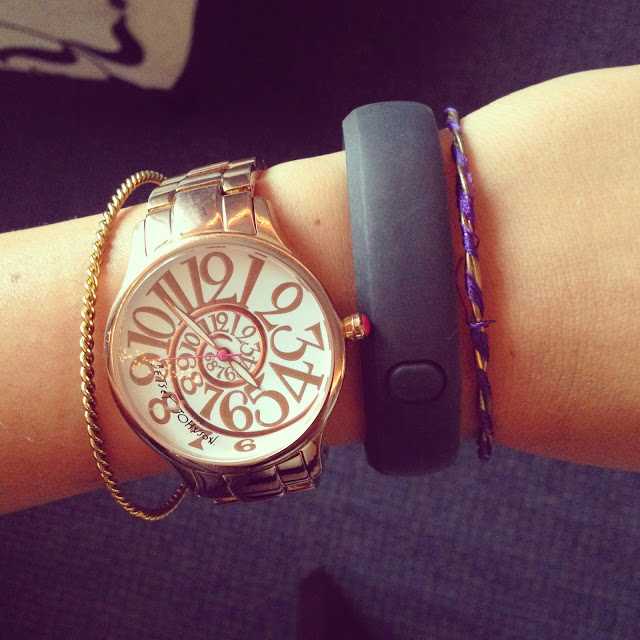 i'm so happy with my nike+ fuelband purchase. it's been a serious motivator for me to get moving, especially when i've been sitting at my desk all day! i can't wait to see how it helps to connect and motivate aj and i when he's back in boston and we're long-distance again this fall...i feel like it will be a great tool to hold one another accountable and to encourage and celebrate one another's fitness accomplishments!
do you have a fitness bracelet? which one do you have? do you like it?