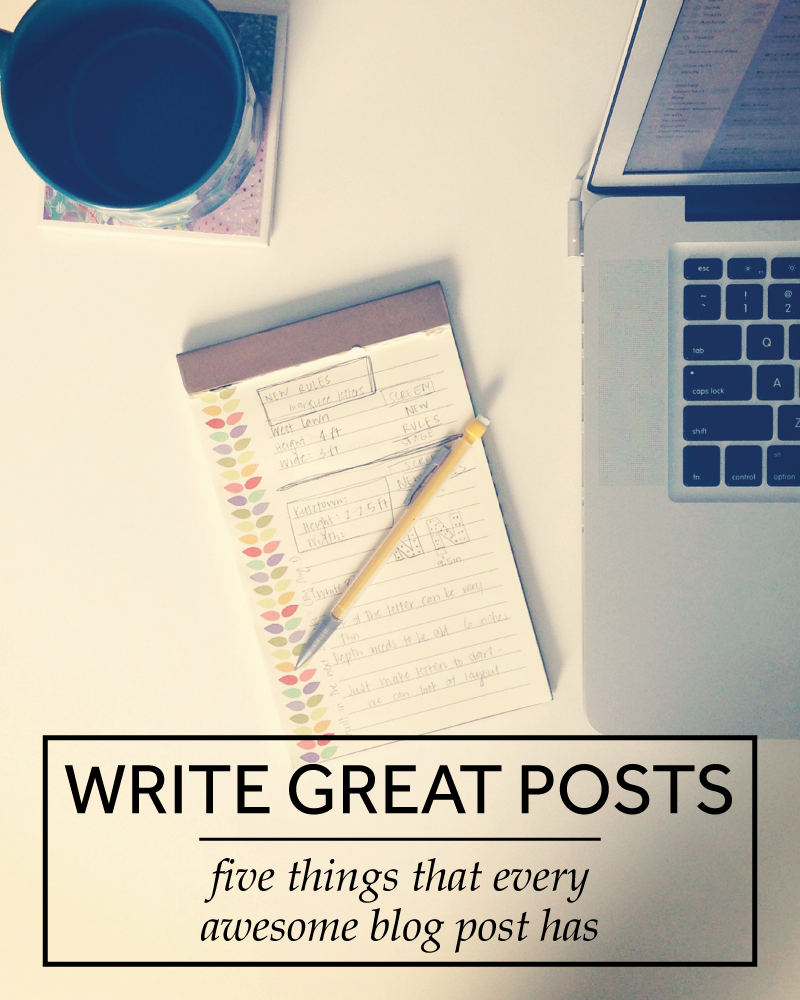 you probably know right off the bat whether you're going to be into a blog post or not. let's face it: there are a ton of really awesome blogs and posts out there, and a ton of really
not
awesome ones. and if you're an avid blog reader, and, well
, human
, chances are you are going to skip over those not awesome posts.
while i'm certainly no expert at blogging, i have been doing it for a little while and have focused lately on sharing a few tips and tricks that i have found to be helpful in navigating the vast sea of the world wide web. and while i don't think that there's some "secret formula" to blogging, i do think that there are some things that you can make sure you're doing in order to get as much response and interaction and readership on each post as possible.
disclaimer: this list is not comprehensive. in fact, you could probably draw up a list of 50 things every great blog post has! things like "no spelling or grammar errors" would probably be on that list. but that list would also feel overwhelming to a girl like me, so here are five things that i personally believe every great blog post has:
1. a great title image //
there should be an eye-catching image right at the top of your post (and bonus points if it has text on it that will give your reader a quick snapshot of what they're about to read)! these posts also solve a dual purpose: not only do they welcome the reader into the post, they also are great for social media sharing (think pinterest!) so that your readers can save a post to refer to later!
2. a clear and focused message //
i like a cute little funny anecdotal rabbit trail as much as the next person, but make sure you pull it back together. have a clear, focused message for every post you write. if your post is all over the place, it's going to leave your reader going "huh?" and wondering why they took the time to read it. instead, be sure to take time to craft your posts. read over them a few times, read them out loud, have a friend read them.
3. a sense of confidence //
be you! i think a version of this tip makes it into every blogging post i write, but that just shows you how important it is! when you're being you and being authentic, that will show itself and you'll come across as confident. the most confident posts that i've written have been ones that i've really written in my own voice. and those post are also often the ones i'm most proud of!
4. a few helpful and relevant links //
specifically, links that lead the reader further into your blog (see the bottom of this post, for example!). if you're writing a blog post about that crazy-good homemade pizza that you made for dinner and have a recipe for homemade sauce, link it up! "internal" links (links that lead readers to another post or page in your site) help readers discover more of your blog and keep them around longer.
5. an invitation for the reader //
ask a question, host a link-up, invite readers to share your posts. give your readers a clear way to interact with you and then make sure you interact back and keep the conversation going!
what are some things you think that every great blog post has?
want more blogging tips? check out some of the other posts in my blogging series here: