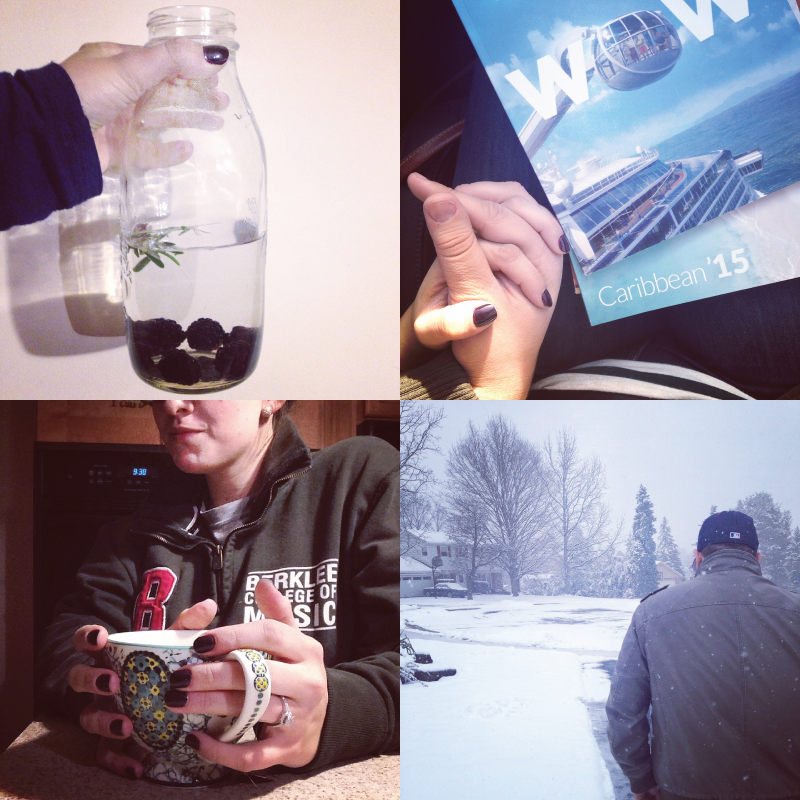 This weekend has just been the best. AJ came home on Wednesday morning and we've basically spent every minute together since. Despite the fact that we got four inches of snow on the first day of spring, we have had a great few days together!
Here's what you might have missed this week on Heavens to Betsy:
HAPPENINGS //
+ Water is pretty much the only thing I drink,
besides
coffee and tea, and I love infusing it! The combo of blackberries and rosemary is super yummy!
+ One of the things we tried to cross off
the
wedding checklist this weekend was figuring out our honeymoon plans! We narrowed it down to a cruise or a week at an all-inclusive resort, and we think we made a decision...if you weighed in and offered some advice on instagram...THANK YOU!
+ The beginning of the week was filled with a few busy, busy days of getting stuff done before AJ came home...and I got sick!
+ Like I said...4 inches of snow on the first day of spring. And it was basically all gone the next day when we had temps in the 50s!
IN CASE YOU MISSED IT //
+ Have you tried this delicious
Blackberry-Lime Spritzer
? Check out the recipe and get some party decor tips!
+ I'm a bit of a Target addict, so
here's
my spring wish list (plus a giveaway for a $400 gift card!)
+ You can read all about my decision to go to a Christian college
here
.
+ The first of my
Heavens to Betsy Tell-All
posts went live this week! I answered ten of YOUR questions!
+ I started the week with a
grateful heart
, despite not feeling well.
DON'T MISS THESE //
+ This
grain-free granola recipe
from Anna!
+ Have you ever seen Mystic Pizza? Well Samantha took a trip to Mystic and
ate there
!
+ Daisy's
lessons learned from working freelance
are so interesting! Freelancing is definitely not easy, but it's an adventure!
+ I totally resonate with
Skylar's feelings
about being in the "in between" stage of life!
+ I'm loving how many of my favorite bloggers are engaged right now! Summer's
coffee-themed bridal shower
looks adorable!
and for a limited time: i'm offering $3 off any ad package on my blog with the code "
justbecause
"! click
here
to check out advertising options!