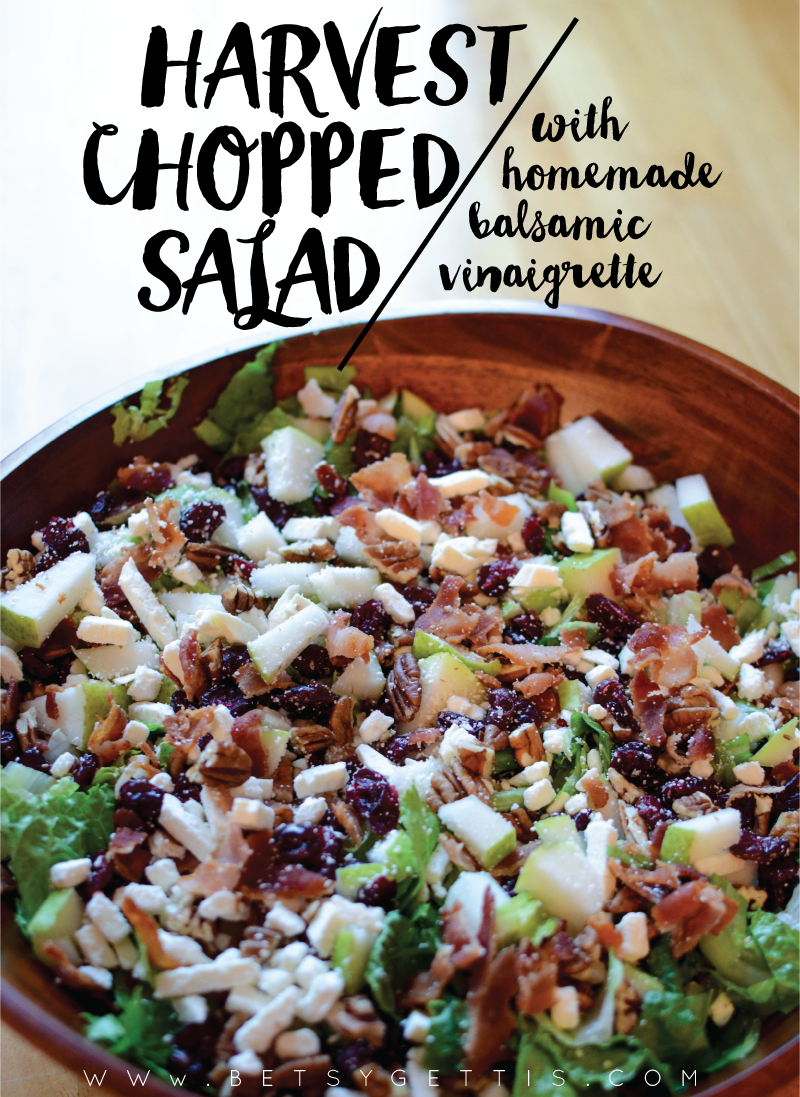 ever since my
whole30
, salads loaded with yummy toppings have become a staple of my diet. i've always been a huge fan of a good harvest salad, and even though the word "harvest" is definitely associated more with fall, this salad works year-round and was just too good not to share!
last weekend, i got together with a group of friends for a little girls' night in. we all brought a part of the meal, wore our sweats, and hung out at my friend hannah's house, where we snuggled her new baby boy and talked weddings and babies all night. just when i finally adjusted to having more friends who are married than not, now they're all going and having babies on me. (and i can't lie...i love it!)
my portion of the meal was the salad, and i decided to break out this delicious recipe for the ultimate harvest salad.
here's what you'll need for the salad:
3 hearts of romaine
1/2 c crumbled feta
6-8 strips of bacon
1 sm-med pear
1/2 c dried cranberries or craisins
1/2 c pecans
(other than the romaine and bacon, these are all estimated amounts...you can adjust as you go to fit your needs! this salad easily fed 6 women, with leftovers to spare)
throwing it together is simple!
+ cook your bacon until crisp (i just followed the package instructions and cooked it in a pan on the stovetop), then blot the grease off with a paper towel or napkin, set aside, and let cool.
+ chop up your romaine hearts into bite-sized pieces and toss that into the bowl first.
+ then, chop your pecans and your pear. your pecans can be chopped fairly small, and your pear should be small bite-sized pieces (quarter the pear, cut out the core, and then slice each quarter into 3-4 slices and chop each slice even further into smaller chunks)
+ crumble your bacon. you can do that with your hands or with a knife. whichever works for you!
+ toss your toppings (pear, bacon crumbles, cranberries, pecans, and feta) onto your salad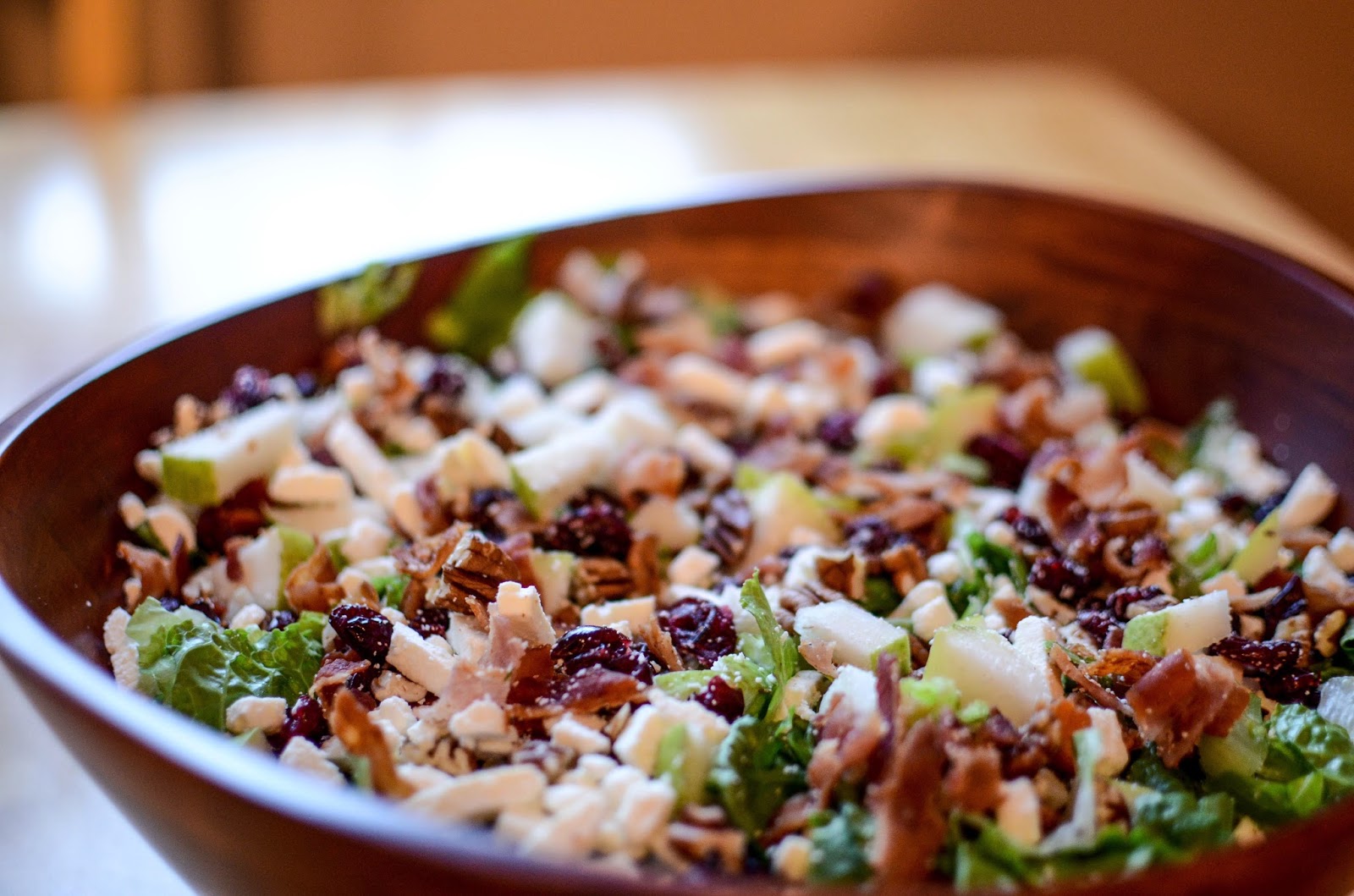 without a doubt, my favorite dressing on just about any salad is a good balsamic vinegarette. this one is no exception! here's a super simple homemade balsamic that pairs really nicely with this harvest salad:
what you'll need for the vinaigrette:
1/3 c balsamic vinegar
2/3 c avocado oil (or other oil...olive oil works well!)
4 tbsp water
1 tbsp minced garlic
a pinch (abt a 1/2 tsp) of black pepper
a pinch (abt a 1/2 tsp) of salt
1-2 tbsp brown sugar, if you want it to be a little bit sweeter
and again....throwing this together is super simple!
+ in a cruet or a 2-cup liquid measuring cup, combine balsamic vinegar and water. then, add in the garlic, black pepper, salt and brown sugar, if desired.
+ mix together these ingredients.
+ add oil and mix all thoroughly.
+ refrigerated, covered dressing will keep up to 1 month, but may need 1 hour of thawing time if the oil solidifies. the contents will settle so be sure to shake or stir before you pour!
*hint: this dressing is crazy simple, but if you want it to be even simpler, my favorite thing to do is to grab a good seasons cruet kit (or packet of italian dressing mix (
not balsamic)
if you already have a cruet) at the grocery store. follow the directions on the packet and simply use balsamic vinegar!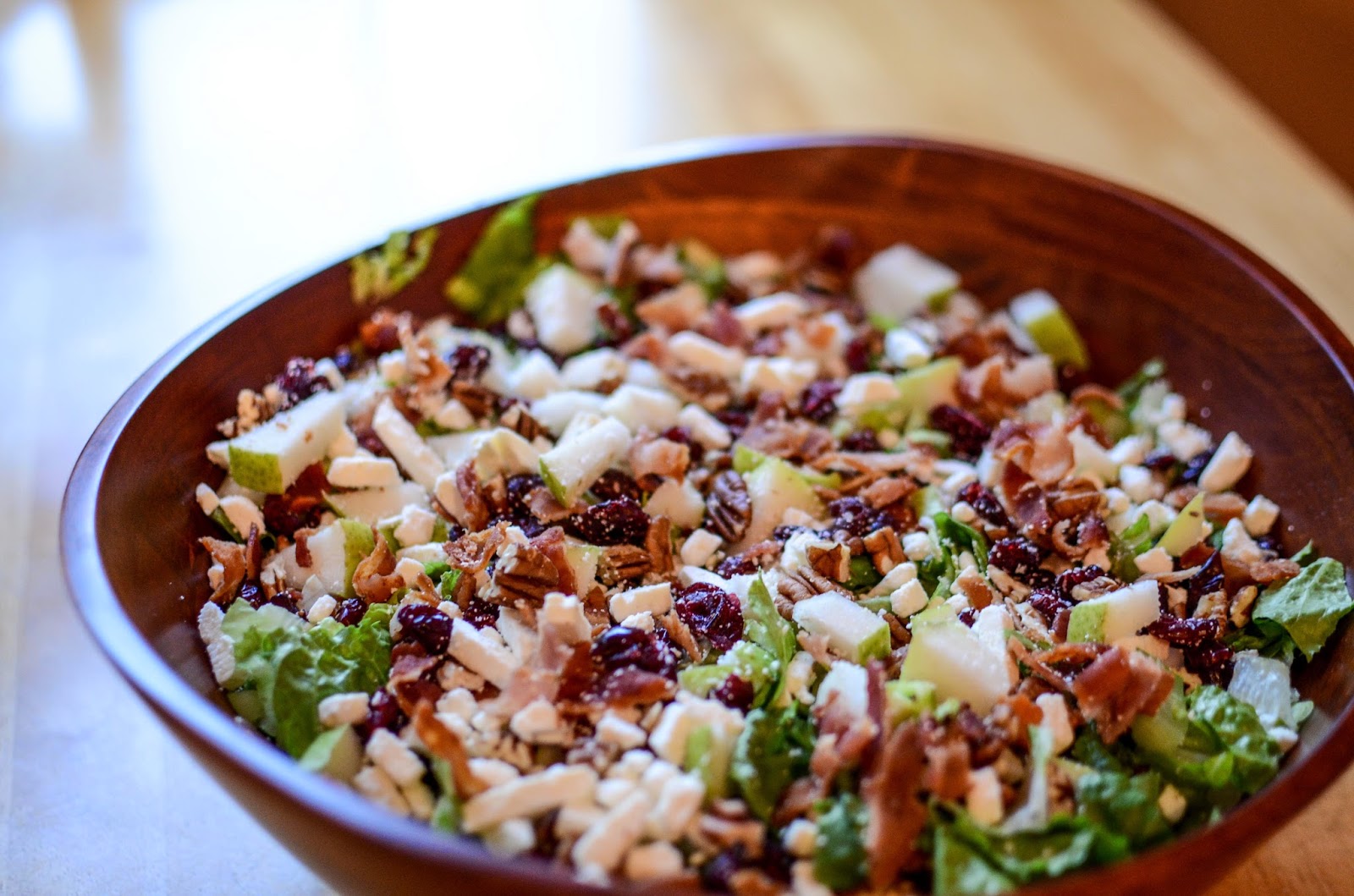 what are your favorite ways to top a salad? do you ever make your own dressing?