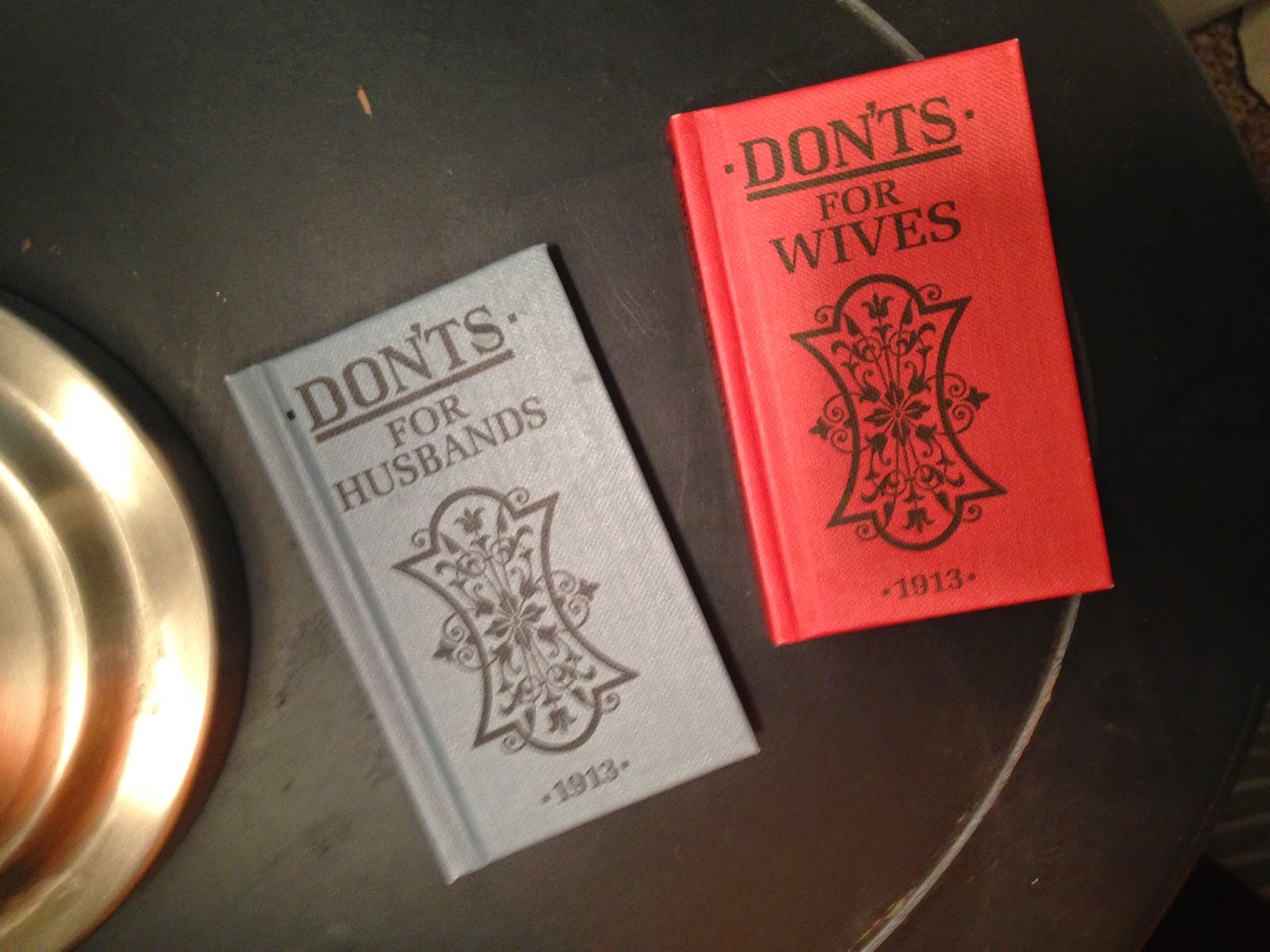 i posted about these books on
instagram
a few weeks ago after aj and i first got engaged, and so many of you requested more details, that it seemed a blog post was in order.
the night that he popped the question, we ended up back at his house with both of our families, who threw us a little engagement party. his mom had seen these books and picked them up, and we all have been cracking up reading them out loud to one another here and there.
whether you're married or single, the "advice" in these books will definitely make you laugh.
thanks, blanche from 1913 london, for giving us 21st century brides some, eh, sound pointers on how to keep our men happy.
dont's for wives:
+ don't be out if you can help it when your husband gets home from his day's work. don't let him have to search the house for you. listen for his latch-key and meet him on the threshold.
+ don't think it too much trouble to sing or play in an evening with your husband as the sole audience. you couldn't have a more indulgent or appreciative one, as a general rule.
+ don't object to your husband spending saturday afternoons playing cricket if you can't play too. you can watch, or you can enjoy some pleasure that is not in his line, and it is advisable for him to have outdoor recreation.
+ don't object to your husband getting a motor-bicycle; merely insist that he shall buy a side car for you at the same time.
+ don't persist on having mushrooms on the table when you know they always make your husband ill. they may be
your
favorite dish, but is it worth it?
(side note on this one: i like mushrooms, aj does not. however, i will not be omitting them from my diet when we're married. sorry blanche.)
dont's for husbands:
+ don't forget that you are not immortal. what chance will she have if you die and leave her with no knowledge of the ways of the wicked world?
+ don't try to be a sultan. this is the west; and you can't shut your wife away from other men. don't insult her by trying to.
+ don't encourage her to be hysterical. you need not be unkind, but you can firmly refuse to pity her.
+ don't try to dress your wife in the fashions of ten years ago. some men can never like anything newer than that; but a woman does not want to look as if she came out of the ark.
+ don't let your wife feel that your dinner is the be-all and end-all of your existence. enjoy your food by all means, but don't make a fetish of it.
i should mention that there really is some good advice in these books. one of my favorites is: don't forget to be your wife's best friend as well as her husband. true friendship in marriage does away with all sorts of trouble.
what is the best, or funniest, marriage or relationship advice you've ever received?