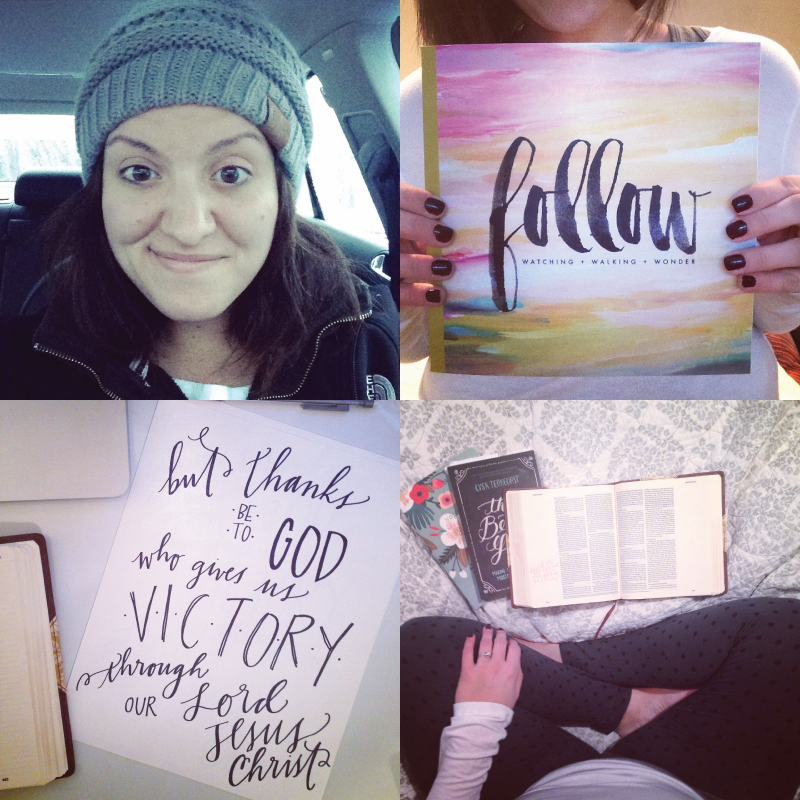 well, we're at the end of another week, and we're just one week away from february! that's hard to believe, but to be honest, i'm excited about it, because february always flies and then march will be here, with warmer weather and a whole week of having aj home. this long-distance while being engaged is no joke, friends.
here's what you might have missed this week on heavens to betsy:
happenings:
+ i had the weirdest week in terms of sleep and showers! this whole30 thing has me feeling exhausted (which
apparently
is normal), so my routine consisted of hitting the gym after work and then coming home, grabbing a quick shower, and taking a nap. and because afternoon
showers
meant not wanting to do my hair twice a day, hats became my friend.
+ i got the
naptime
diaries lent devotional in the mail this week! excited to dive into it!
+ just a little doodling and hand lettering as i was reading the bible the other night. there's so much peace in knowing we have victory through jesus!
+ i spent last night with a few friends, but before i headed out, i took a few minutes to catch up on a little reading!
in case you missed it:
+ have you found your
purpose for blogging
?
+
part three of the love story
was up this week!
+ i'm a week into whole30 and feeling good...
here's why i'm doing it
and what it all means!
+ as usual, i started the week with
a grateful list
!
don't miss these:
+ emily's post about choosing your friends wisely was so poignant!
+ megan's lessons learned from leading worship are so great...you definitely should read them!
+ laura's antiqued coffee table looks great!
+ mandy recapped her trip to northern england! england is definitely on my list of places i'd love to go!
+ this pep talk from natalie!