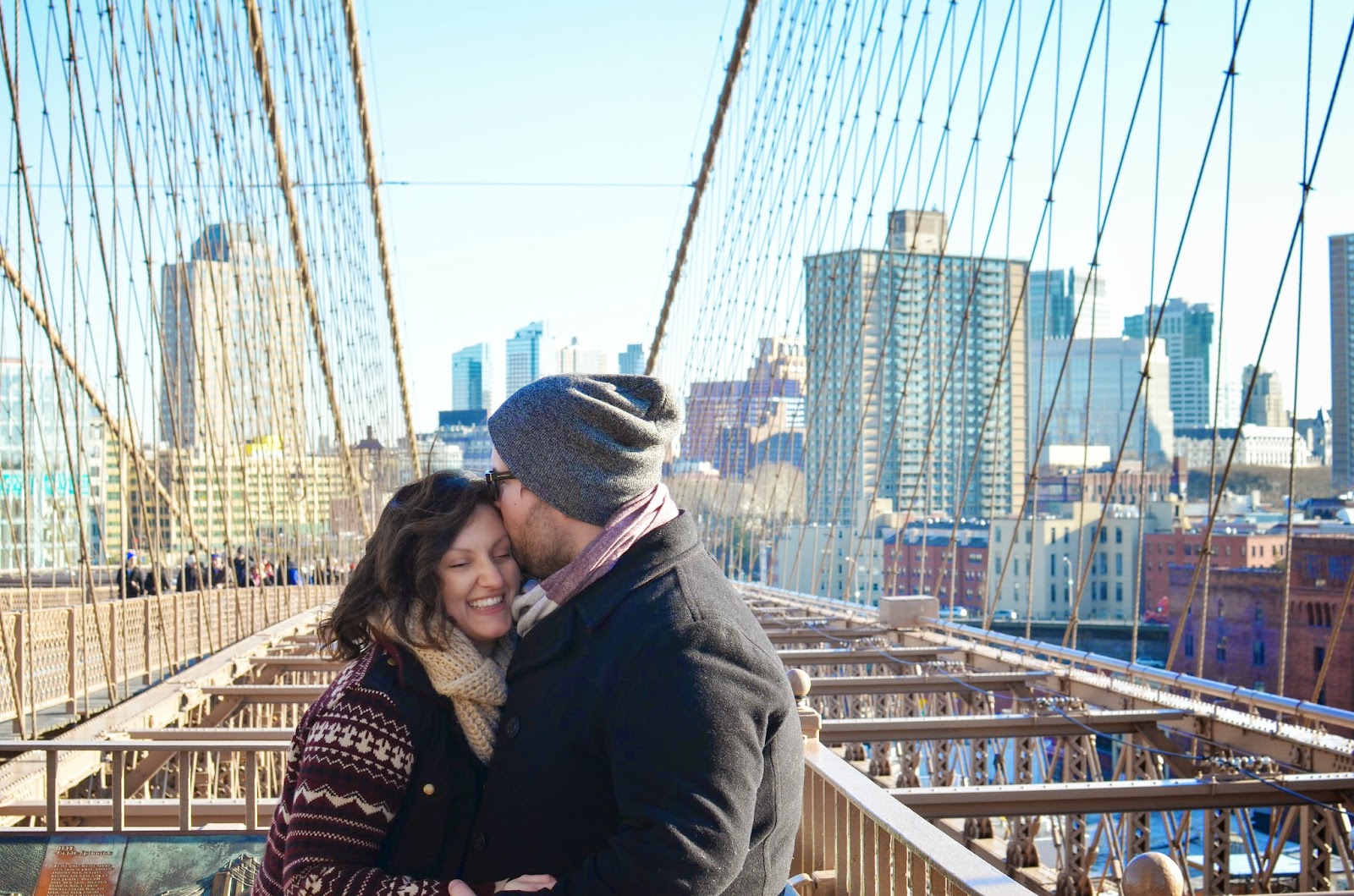 if you missed part one or part two of our story, you can check them out here:
when we ended part two, aj and i were in the "we like each other, but aren't dating yet" phase, and valentine's day was looming. going out to dinner on valentine's day wasn't really an option because of aj's school schedule, so i offered to make him dinner. i got out of work in the early afternoon and texted his mom to ask what his favorite dish was, and then i hit the store to pick up the ingredients for shrimp pesto pasta. aj came over when he got done with classes for the day (he was commuting to york college of pennsylvania at the time) and brought some chocolate-covered strawberries with him, which was adorable. (i later learned that he couldn't decide whether or not to bring flowers and he decided against it because he wasn't sure where we stood.)
we ate dinner and chatted about everything but where we were in terms of our relationship. when one of us finally broke the ice, it was like a sigh of relief. we ended up having a very practical conversation where we decided to stop dancing around it and that "we should probably just be dating." and just like that, our single lives ended forever.
the next day was a wednesday, and our youth group had their midweek services that night. we were both on staff, so we both had responsibilities that night, but we both were in that "we just started dating" bubble. i remember getting a text from aj that day that said something like "you know when you have a dream that you don't want to wake up from but then you do and it's not real? well, this is nothing like that" and of course, i swooned.
(that boy is good with his words, friends.)
it was evident pretty quickly how well we worked together. we shared a lot of interests and just clicked. we took day trips to baltimore (where i desperately wanted him to kiss me in the rain but he didn't), and we spent a lot of time with one another's families. when aj's family went on vacation at disneyworld in may, i flew down and surprised him for a few days. by june, we were dancing around saying the l-word. one night, after aj's sister's graduation party, we went for a walk. i was leaving on a missions trip to the dominican republic the next morning, and we had been saying that we
adored
each other for well over a month. after two laps around the course of our walk, aj finally said the words we were both holding back for so long:
i love you.
to say that it was hard to get on a plane and leave him for two weeks after that would be an understatement, especially when we didn't know if we'd be able to communicate at all when i was gone (we didn't really, except for a few brief moments of texting when i had spotty wifi). but it was the sweetest homecoming, and we spent that summer pretty much inseparable!
sometime in the next year, aj's sister, his mom, and i started encouraging him to consider applying and transferring to berklee college of music in boston. he hadn't really applied to any reach schools when he graduated from high school, and my cousin, zac (also amanda's boyfriend) was a freshman there. after months of auditioning and trips north, aj headed to berklee in the fall of 2013.
we adjusted to our new circumstances in a long distance relationship, and we enjoyed spending time traveling back and forth and discovering our favorite
date spots in boston
! but the distance also made us grow more impatient. in the time that we were dating, we attended about a dozen weddings, which, for a couple who knew by four or five months that they wanted to spend the rest of their lives together, gets tough. we constantly dreamed about being married and living in the same place, but it still seemed so far away.
and this is where part three ends (and is also the part where you all hate me)....you'll have to come back next week to hear part four...the proposal!