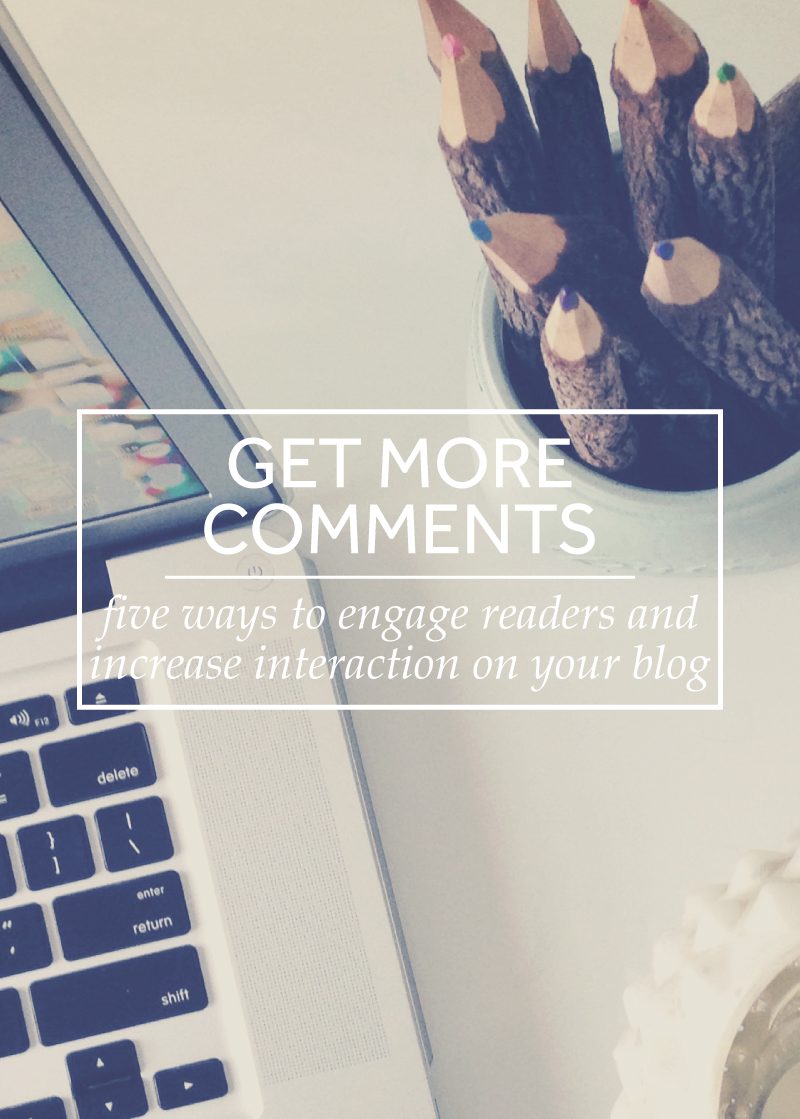 you know that post that you spent hours writing and taking awesome photos for and now you're anxiously waiting for those comments that just aren't coming? we've all been there.
let's be real...we all want more comments on our blog posts! comments show that you not only have readers, but those readers also think your blog or content is good enough to take the time to comment on what you've written. in the midst of a sea of blogs (and lots of great content), it can be tough to get people to read, let alone engage, with your posts.
so besides the obvious (writing awesome content, posting fantastic photos, promoting like it's your job...), here are some practical ways to get your readers to engage more:
1. ask a question
// end your posts with a relevant question! posting about your favorite drink order at starbucks? ask your readers what they typically order! give your reader a reason to comment, and help them engage and enter the conversation with you as they respond to your question.
2. respond to comments
// think of comments as a conversation: if someone takes the time to read your post and then comment on it, shouldn't you want to carry on that conversation by responding? i love getting an email saying that a blogger responded to my comment on their site, and i love when those comment trains actually do turn into a conversation! i'm much more excited about commenting on a blog when i see that the author has responded to other comments and engaged with their readers!
3. utilize a comment moderator like disqus
// it took me a while to make the switch to using disqus on my blog and i so wish i had done it earlier! disqus is pretty common, so most people in the blogging world at least have an account as a commenter. setting it up on your blog is incredibly easy and they'll import all of the comments you already have into disqus for you! what makes disqus so great? it's an incredibly efficient way of monitoring comments, keeping everything streamlined on your blog, emailing you when you get a comment, and emailing a reader when you respond to their comments!
4. comment on other blogs
// if you're a blogger (and i'm going to assume you are since you're reading this), then chances are you have a few blogs that you read regularly. my philosophy is that if i can take a few minutes to read someone's post, then i might as well take the thirty seconds to type out a response. commenting on other blogs will make it more likely the writers of those blogs will stop by your site and leave some love back!
5. make it easy!
// this is probably the best advice i can give you...make commenting on your blog easy for people! you know that captcha code you have turned on? or that little box i need to check to prove i'm not a robot? ditch it, please! call me lazy, but those "i promise i'm not spam" safeguards can make or break you getting a comment from me. here's the reality: if you're just using the standard comment moderator that is offered by blogger or wordpress, it should still filter most spam even without a captcha code being turned on. and if it's not cutting it for you, then use a third-party plug in like disqus, which is much more sentient when it comes to filtering spam.
what do you think? do you have anything to add to this list? do you do anything special to engage readers with your posts?
want more blogging tips? check out some of the other posts in my blogging series here: