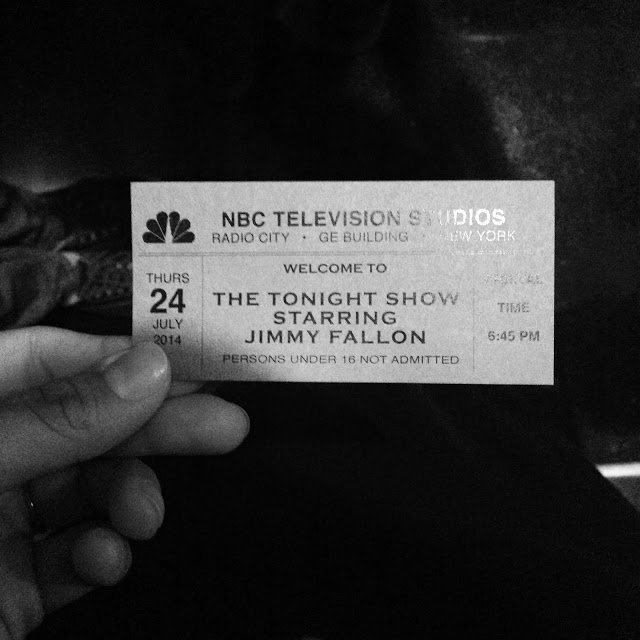 last thursday, aj and i (along with my cousin, zac, my brother, mark, his girlfriend,
natalie
, and aj's grandmother) hopped in the car and headed to nyc for the day. mark and natalie were heading to see
the fantastic mr. fox
in a park underneath the brooklyn bridge, but aj, zac, grammy and i? we were headed to see the fantastic mr. fallon. (heh...see what i did there?)
just in case you're not aware, jimmy fallon is wonderful. i'm a total sucker for the slightly geeky adorable guy (think marshall on
how i met your mother
), and mr. fallon is exactly that. (for the record, aj is too) as charming as he is on tv, he is that times 100 live. totally goofy and adorably funny. steve higgins is the perfect wingman, and the roots are probably the best session band to ever grace the tonight show stage (and i'm a total authority on that since i can name approximately 0 other bands that have ever graced the tonight show stage).
if you're wondering how to get tickets to see jimmy live, here's how it works: tickets are released on
jimmy's website
and are usually released a month and a time. like the tonight show's page on facebook and follow them on twitter to get alerts about when they're going to release tickets, then get ready. basically, you need to get on the website the second ticket sales go live. you'll be entered into an online queue and released to the ticketing website when it's your turn (if you're lucky). aj and i both refreshed the page when the clock struck 11am the day tickets were released, and it took him 15 minutes to get released to the website and i sat in the queue until i eventually got sent to a page that said that all july dates were sold out. fortunately, you can reserve up to four tickets, and you can take anyone you want (over the age of 16) with you! they're not easy to get, but if you're quick with your trigger (or mouse-clicking) finger, you might get lucky like we did!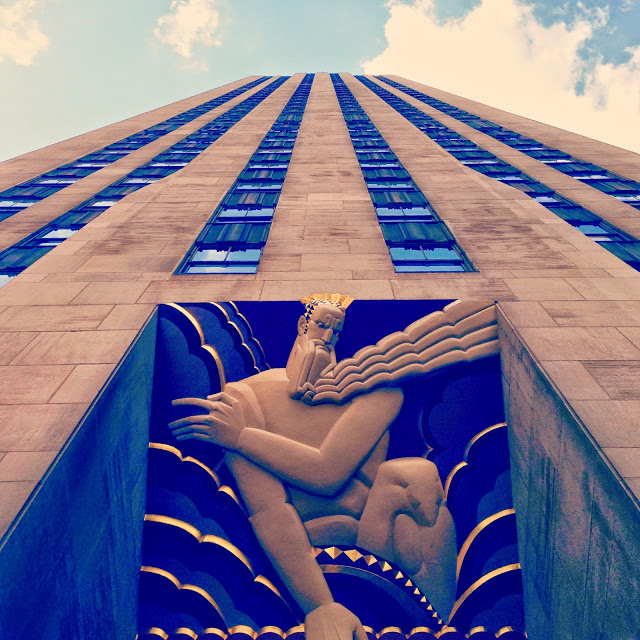 this is the front of rockefeller center, which you probably know if you've ever been there or seen an episode of 30 rock (and if you haven't seen an episode of 30 rock, you're totally missing out). it's a gorgeous building, and because i kinda love cities and
really
love 30 rock, it feels a little magical visiting it. (this photo was also my submission for the lines prompt of the
#holdersnotfolders
challenge on instagram, which you should definitely check out!)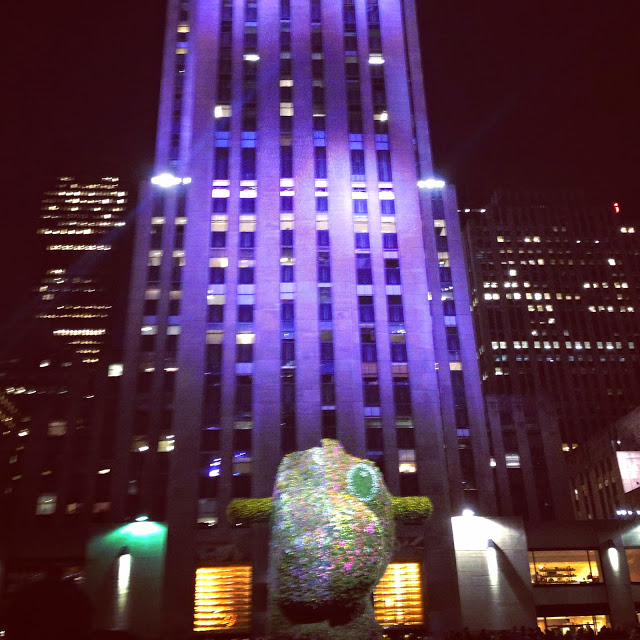 rockefeller center also has this giant flower sculpture happening in front of it right now....it's right where they put up the christmas tree during the holidays, and it's supposed to be half rocking horse/half dinosaur...kinda weird, but super cool because it's massive and it waters itself from the inside and i can't even imagine building it.
oh, and p.s. ... i've partnered with rachel and a bunch of other bloggers to bring you a pretty awesome giveaway, so be sure to check that out, enter, and have a happy friday!
this giveaway is celebrating rachel's blog birthday, so she's including some awesome goodies! a lucky reader will win: a one year subscription to the lovely printable library of elle & co. design, a motivational coffee mug, and a retro camper headband!
and here are the bloggers that are partnering with miss rachel to offer you this awesome giveaway...check them out and show them some love!